10 Players Snubbed by Steroids
By Andrew Goodman
Any sports fan knows that there are athletes who cheat to get an edge. No sport has more prominent steroid scandals than Major League Baseball. Some of the 'greatest' to ever play the game have had their careers tarnished by steroid accusations. Players like Barry Bonds, Mark McGuire and Alex Rodriguez would have went down in the history books as some of the best to ever play the game. Instead, everything they've ever done will have an asterisk next to it, indicating that they cheated to get where they were. By taking steroids, these players had an unfair advantage over other players – players who trained hard and played harder. These players got looked over, because they couldn't produce like the heavier hitters could, but that's because they didn't have the same advantage that these players had. Here are 10 players who were cheated by steroids.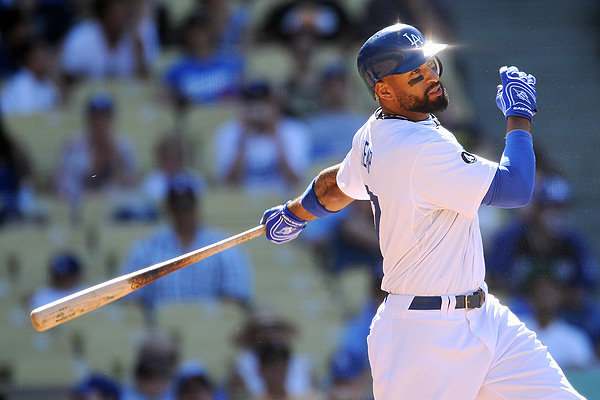 10. Matt Kemp
Unlike many of the other players on this list, Kemp still has a long career ahead of him. However, he was still cheated out of the 2011 MVP Award. Kemp received 10 of 32 first place votes, but was beat out by Ryan Braun, who received 20. That year, Kemp led the National League in home runs (39), RBIs (126), runs (115) and total bases (353).He also stole 40 bases, missing admittance into the 40-40 club by just one home run. This is arguably one of the best seasons a player has had in recent memory, but it wasn't enough for Kemp to win an MVP. Braun led the league in slugging percentage (.597) and OPS (.994) that year and came close to Kemp in many statistical categories. However, despite Kemp almost winning a Triple Crown, Braun won the MVP. Braun is still caught up in the ongoing Biogenesis investigation, and while not every detail regarding Braun's PED usage is out in the open yet, we know one thing – he cheated. Luckily for Kemp, he is only 28-years-old and will have many more opportunities to win the MVP Award. Nevertheless, he should already have one under his belt.
9. Magglio Ordonez
Magglio Ordonez's career was plagued with injuries. In his 15 years as a major leaguer, Ordonez was a five-time All-Star and a two-time Silver Slugger. In 2007, Ordonez had perhaps the best season of his life. Ordonez hit 28 home runs and batted in 139 runs. However, although impressive, these aren't the numbers that stood out for Ordonez that year. Ordonez led the league with 54 doubles, but the stat that really stood out was his league leading batting average of .363! That year, Ordonez had an on-base percentage of .434, meaning he made it on-base almost every other time he came up to bat. However, Ordonez did not win the MVP Award. He was beat out by a 31-year-old by the name of Alex Rodriguez (you may have heard of him). Rodriguez received 26 of the 28 first place votes that year, easily capturing the MVP Award. Rodriguez stat line that year looked like this: 54 homers, 156 RBIs, 24 stolen bases and a batting average of .314. Based on these statistics, it is clear why A-Rod won the award. However, 'A-Roid' had a little added help that Ordonez did not. We now know that Rodriguez was using performance enhancing drugs (PEDs). Ordonez never won an MVP Award, and this was the closest he ever came. Winning an MVP Award is a huge accomplishment for any player, because it means you are the best. Ordonez was definitely the best that year, but a roid-ridden A-Rod stole the MVP away from him.
8. Mariano Rivera
Mariano Rivera is undoubtedly the best closer in the history of baseball. He has more saves than any other closer in history, has a lifetime ERA of 2.20, and nobody has pitched as well as Mo in the playoffs. Rivera was a 13-time All-Star and was considered for several Cy Young and MVP Awards, although he never won either. The closest Rivera came to winning a Cy Young was in 2005. Rivera closed out more games for the Yankees than any other pitcher did for their team that year. In his 71 appearances, Rivera finished 67 games and was credited with 43 saves. He had an ERA of 1.38, proving to be almost unhittable. In 78.1 innings, Rivera allowed only 50 hits, 12 earned runs, two homers and 18 walks, while striking out 80, with a WHIP of 0.868. Based on statistics, this was the Sandman's best year. However, he came in second when it came to Cy Young voting. Rivera received eight of the 28 first place votes, but Angels' pitcher Bartolo Colon received 17. Colon that year went 21-8 with an ERA of 3.48. Any time a pitcher has 20 or more wins, they have to be considered for the CY Young Award. Colon was the only American League pitcher to reach 20 wins that year, which secured his victory. However, we later found out that Bartolo Colon was injecting himself with testosterone, a banned substance. Colon was penalized for his PED usage and is now back in the majors, and even made the All-Star Game this year. However, with this year being Rivera's last, it is unlikely he will ever win a Cy Young Award.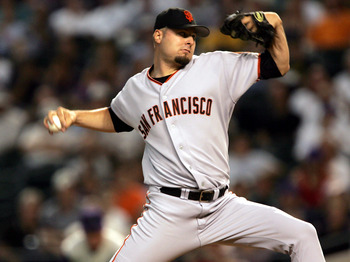 7. Jason Schmidt
In the early 2000s, Jason Schmidt was one of the most feared pitchers in baseball. Schmidt had his best season in 2003, when he led the league with a 2.34 ERA, a 0.953 WHIP and a .773 win-loss percentage. Schmidt finished the season 17-5, with five complete games and three shutouts, striking out 208 batters in 207.2 innings. No other starting pitcher pitched anywhere near as well as Schmidt did for the Giants in 2003. Unfortunately for Schmidt, the Cy Young is not exclusive to starting pitchers. Just a few hours south of San Francisco, Eric Gagne was pitching lights-out baseball for the Dodgers. Gagne had 55 saves that year and had an ERA of 1.20. Analysts and players alike claimed that Gagne was on the path to greatness, and that he could even be better than Mariano Rivera. Gagne posted an unheard of WHIP of .692, and struckout an even more impressive 137 batters in only 82.1 innings! Gagne's season was definitely Cy Young worthy, except for the fact that he was on steroids. Both Schmidt and Gagne had their careers cut short by injury, but Gagne has an award on his shelf that Schmidt well deserved.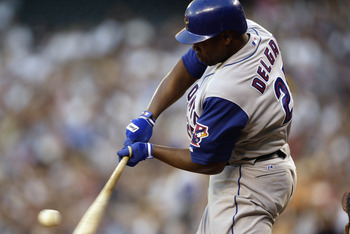 6. Carlos Delgado
Carlos Delgado was the lost slugger of the steroid era. He finished his career with 473 home runs. He is one of the only players in history to hit four home runs in a game. However, his whole career he was overlooked, because players like Alex Rodriguez and Jason Giambi were putting up similar number on better teams. Delgado spent most of his career with the Toronto Blue Jays, a team that was always in the Yankees shadow. In 2003, the AL MVP race was a close one. Five different players received at least three first place votes. Delgado received five of those votes. Only Alex Rodriguez had more, with six. Delgado led the league in RBIs (145) and OPS (1.019) in 2003, while slugging 42 homers and batting 302. He also only missed one game. A-Roid again stole an MVP Award away from a deserving player. A-Rod belted a league-leading 47 home runs that year, while batting in 118, stealing 17 bases and batting .298. Although the race was very close, Alex Rodriguez beat out Delgado with 62 percent of the vote compared to Delgado's 54. This wasn't the first time Delgado had been close to an MVP Award, as he came in fourth in 2000, behind Rodriguez, Frank Thomas and Jason Giambi. Giambi won the award, but we now know that both he and Rodriguez were on PEDs. Delgado may have had two MVP Awards, but instead received none, because he was beat out by bats fueled by PEDs.
2001 was one of the most exciting years in baseball. Three men chased the home run record, resulting in Barry Bonds shattering the record with 73 home runs in a single season. Sammy Sosa finished the season with 64, while Gonzalez ended up with 57. Gonzo played in every game that year, and had 728 plate appearances, more than any other player in baseball. 2001 was the best year of Gonzo's career. In addition to his 57 home runs, he had 142 RBIs and batted .325. Gonzalez was also one of the best fielder's in the game. In 1416.2 innings in left field, he did not record a single error, and had eight outfield assists! Gonzo was an all-around great player, but never got the recognition he deserved. Gonzalez finished third in MVP voting behind Sosa and Bonds. At the time, Bonds seemed like the obvious choice – he had broken the single-season home run record. However, we now know that Bonds was an avid steroid user, although he has yet to admit it. We also know that Sosa was no angel either. Luis Gonzalez had one of the best years any player has ever had in the history of baseball back in '01, but has an empty spot on his shelf where an MVP Award should be.
4. Pedro Martinez
Pedro Martinez had a very successful career. Martinez was an eight-time All-Star and a three-time Cy Young Award winner. However, Pedro should have another Cy Young and an MVP Award on his resume. In 1998, Pedro came in second in Cy Young voting, losing to Roger Clemens who received all 28 first place votes. Pedro went 19-7 that year, with an ERA of 2.89, striking out 251 batters in 233.2 innings. However, Clemens bested Martinez in almost every stat category. Clemens was the clear choice. Martinez was just one of many pitchers who Clemens had beaten out for a Cy Young in his career, but we know now that Clemens was on steroids. In 1999, Martinez did win the Cy Young, and also came in second for the AL MVP Award. Ivan 'Pudge' Rodriguez, a player who was always recognized for his defense, put up outstanding offensive numbers that year. Pudge hit 35 home runs, batted in 113 runs, and stole 25 bases – all career highs for the Rangers' catcher. That year, Pedro went 23-4, with a 2.07 ERA, striking out 313 batters in 213.1 innings. It was one of the best seasons a pitcher has ever had, and the best since I've been alive. At the time, no pitcher had won an MVP Award since Dennis Eckersley did in 1992. Martinez was the rightful MVP winner that year, but instead an undeserving Pudge Rodriguez stole it.
3. Nomar Garciaparra
Nomar is one of my favorite players of all time. I don't know what it is about him, but I always like him. Maybe it's the fact that I was able to spell his name, or that my dad made corny jokes using 'Nomar' in place of 'no more.' Regardless, Nomar had a huge impact on the league when he cebuted in 1997. He won the Rookie of the Year (ROY) Award that year, and just a year later came in second when it came to MVP voting. Nomar lost out to Texas slugger Juan Gonzalez. Both Nomar and Gonzalez had their best seasons that year. Juan-Gone hit 45 home runs that year, in addition to leading the league with 50 doubles and 157 RBIs. Garciaparra had only 35 home runs and 122 RBIs. The two players were so close to each other in pretty much every statistical category except for home runs and RBIs. Since Gonzalez had the clear edge in these categories, he was the obvious choice for the MVP Award. After Gonzalez retired, it was discovered that he, like many others, took steroids. This was Garciaparra's best shot at an MVP. Nomar's career was riddled with injuries, resulting in an early retirement at age 35. Unfortunately, the six-time All-Star and former ROY was never able to win an MVP and the one that he rightfully deserved went to the wrong man.
2. Albert Belle
Albert Belle was one of the best sluggers of the 1990s. Belle had at least 30 home runs every year from 1992 through 1999, hitting as many as 50 in 1995. That year, Belle led the league in homers (50), RBIs (126), runs (121), slugging percentage (.690) and total bases (377). Belle received 11 of the 28 first place votes, and finished with a total of 300 points. A total like this is usually enough to win, but Belle was beat out by Mo Vaughn, who received 12 first place votes, and finished with a total of 308 points. Belle out-performed Vaughn in every statistical category, which left many scratching their heads when Vaughn won. Regardless, Vaughn did win. In 2007, it was discovered that Vaughn used HGH, a banned substance. That is only the first of two MVP Awards that Belle was cheated out of. Just a year later, Juan Gonzalez won the 1996 AL MVP Award. Belle came in third, behind Alex Rodriguez. As previously mentioned, both Gonzalez and A-Rod are known steroid users. Belle was the rightful victor this year as well. Rather than being remembered as a home run hitting, two-time MVP, Belle was overshadowed by players like A-Rod, Gonzalez, Sosa, Bonds and McGuire, all of whom used steroids.
1. Albert Pujols
Albert Pujols is already a three-time MVP winner. The most MVPs that a player has ever won are seven, which was accomplished by Barry Bonds. However, Bonds' four consecutive MVPs from 2001-2004 are all tainted by steroid usage. In 2001, Pujols came in fourth, behind Bonds, Sosa and Gonzo. Pujols, a rookie at the time, won the ROY Award. Gonzo should have won that year, although Pujols would have made things interesting. However, Bonds' three MVP awards from '02-'04 all should have been awarded to Pujols. In 2002 and 2003, Pujols came in second to Bonds, and in 2004 Pujols came in third behind Adrian Beltre. While some might argue that Beltre should have won in '04, nobody can dispute that Pujols deserved two more MVPs in '02 and '03. Pujols could hold the record for MVP awards with seven, if he won all four that Bonds stole, and he very well could have. At 33, Pujols still has plenty of time to win a few more awards, although his bat seems to have slowed down in recent years. While I'm sure Pujols is happy with his three MVP Awards, I'm also sure that he would much rather have seven.
What do you think of this list? Did I miss anyone? Anybody on here who shouldn't be? Share your thoughts. Comment below!